Affordable, top quality photographic art of the South Carolina Lowcountry.
---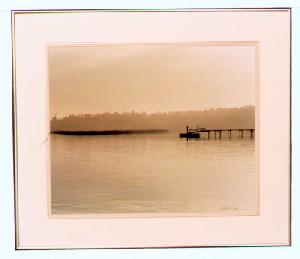 ---

These unique, interpretive scenes of the South Carolina Lowcountry, as well as the Georgia/Florida coastal regions are now offered in two different "framed/print" sizes of 11x14" and 20x24".
Though shown only on this page, (above), all prints come framed and are attractively double matted, using complimentary neutral earth tones. Each piece utilizes a #11 profile brushed gold aluminum molding to accentuate the final work. Naturally, each piece comes standard with full-frame regular glass as well.

The final framed size of the above prints are... 11x14" print size = a 19x22" frame size.
20x24" print size = a 28x32" frame size.
(4" top mats for each)

As mentioned earlier, these prints are in no way to be confused with mass-produced lithography. Each photographic print is custom made to my exacting specifications. This includes color variance and exposure control, image cropping, contrast manipulation, etc.
This process assures you, the potential owner of my work, a completely unique, one-of-a-kind image.

---
An outstanding offer!

These high quality, individually signed images have normally been obtained for $400.00 to $500.00 respectively, but due to our increasing emphasis on increased public acceptance of quality photographic art, these same photographic collectibles are now available, for $240.00, (19x22") and $375.00, (28x32").

---
'Rather frame it yourself?

No problem! It's comforting to know that as exquisite as these framed pieces are...people's taste sometimes differ - and that's why we are now offering you, the educated art buyer, the opportunity to purchase any one of these fine images on a "Print-Only" basis for you to frame to your own specifications!

In addition to the above (2) "framed/print" only availability, (11x14" and 20x24"), we will now authorize the addition of a third print size of 16x20".
Pricing for all three are as follows:
11x14" Print Only: $60.00
16x20" Print Only: $75.00
20x24" Print Only: $150.00

---
Ordering information...

If you decide that you, your friends or business associates would like one or more of these original works of photographic art for your home or office, you may do so either by e-mailing me at jag299285@cs.com, or by calling 843-842-3056.

Please note: Prices above DO NOT include shipping. Costs vary by order size, distance, and method of delivery. Shipping costs will be determined upon receipt of your order.

Please allow 4-6 weeks for delivery

Thanks for stopping by...Ya'll come back now...hear?


Go back